Sarah Chapman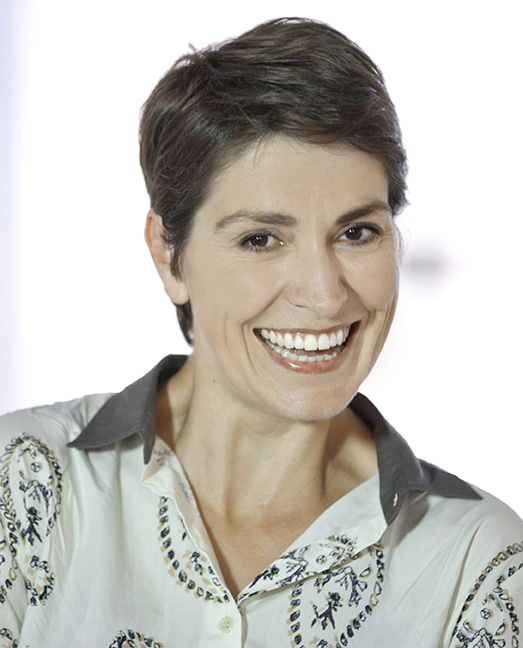 Sarah Chapman
Job title: Director of Peninsula Arts, Peninsula Arts (Faculty of Arts & Humanities)
Address: RLB1A, Roland Levinsky Building, Drake Circus,
Plymouth, Devon, PL4 8AA
Telephone: +441752585038
Email: sarah.chapman@plymouth.ac.uk
Role

Director, Peninsula Arts

Bringing the highest quality international cultural names and events to Plymouth whilst providing a platform to support emerging artists,

with the aim of inspiring and engaging a wide range of audiences and fostering an appreciation and understanding of the Arts.

Skills: Direction, curation, major festival and event management, partnership working, relationship building, business development, fund raising, implementing change, problem solving, communication, mentoring, strategic planning and creative thinking.




 

Qualifications & background





PhD (pending completion Autumn / Winter 2013)

The InterFace between Photography and Painting

MA Sequential Design, Brighton University, 2002

BA Design Arts, 1st class hons, Plymouth University, 1997


 

Roles on external bodies





Board of Directors, Plymouth Visual Arts Consortium (PVAC)

Editorial / Management Board, Nom de Strip (www.nomdestrip.co.uk)

Chair,

River Tamar Project

Management Board

(www.tamarproject.org.uk)

Plymouth International Book Festival Management Board


 
Teaching interests





Taught on undergraduate and postgraduate courses at Plymouth University including, BA Media Arts, MA Publishing, BA/BSc Digital Arts and Technology. Visiting Lecturer at Swansea Metropolitan University.

 
Research interests

The history and the continued development of public art galleries / collections associated with Universities
Exhibition interpretation and how to enrich the experience and understanding of contemporary art for a diverse audience
Arts administration - curation - adapting to a new funding climate
Critical cultural writing / reviews and commentary

Book design - magazine design - the artist book
Drawing - the line in space - graphic intervention - early 20th Century through to the present

Artists who alter the photograph through graphic means
Found photographs
Other research
2012-2013 Public Arts as Extra-Curricular Learning
A TFAS award (teaching fellowship) that examines the beneficial role public arts can play within the student learning experience (both formal and informally) across a range of art and science disciplines.
Creative practice & artistic projects

2012 - 2013 Executive Producer www.mobydickbigread.com
Working with curators Philip Hoare and Angela Cockayne the Moby-Dick Big Read aimed to represent and reinvigorate the classic 19thCentury novel Moby-Dick by Herman Melville for a 21st Century audience. Hugely ambitious in scope the project invited well known luminaries, from arts and science, stage and screen, to contribute a reading, and included: Tilda Swinton, John Waters, Sir David Attenborough, Stephen Fry, Simon Callow, UK Prime Minister David Cameron, Blake Morrison, Hugh Fearnley-Whittingstall, Christopher Frayling, Tania Kovats, China Mieville, Dorothy Cross, Will Self, Benedict Cumberbatch, alongside an equally illustrious list of artists who also contributed or made new work specially for the project: Gavin Turk, Richard Long, Michael Landy, Frank Stella, Susan Hiller, Marcus Harvey. Under the banner of 'making great literature accessible to everyone' the Moby-Dick Big Read reached an audience of 2.5 million and receiving world wide critical reviews.
Moby Dick Big Read

launch, 16 September, Plymouth Hoe (part of the Plymouth Marine City Festival and the Plymouth International Book Festival). Featured an introduction by author Philip Hoare, a chapter reading by Simon Callow and a new music commission inspired by Moby-Dick.




Moby-Dick Big Read

on tour, featuring in

Aquatopia

at Nottingham Contemporary (20 July - 22 September) and TATE St Ives (October 2013 - January 2014).




Moby-Dick Big Read

e-book (released September 2013)



2012

Knowledge Museum Kit and News After News joint exhibition featuring Dan and Lia Perjovschi (Peninsula Arts Gallery, November - December 2012 ).
2010

Ben Hartley: A retrospective, Co-curated by Bernard Samuels and Sarah Chapman, featuring paintings, drawings and never before exhibited journals and notebooks
(Peninsula Arts Gallery, November - December 2010).
2009

(re)sounding signs: Polish Chopin Posters 1955-2006, Co-curator. Featuring posters from 1950's to the present day, including Henryk Tomaszewski, the Wroclaw Four group, Rafal Olbinski and Waldemar Swierzy. Part of the Plymouth Polish Festival and in partnership with the Museum Frydereyka Chopina, Warsaw with the support of Adam Mickiewicz Institute (March - April 2009).
2008

Art & Insects, an exhibition featuring over 20 national and international artists inspired by insects. Supported by the Royal Entomological Society (Cube3 Gallery, Plymouth University, September-October 2008).
2008

Beryl Cook 1926-2008, A Retrospective. Co-curated by Jess Wilder and Sarah Chapman,
(Peninsula Arts Gallery, November - December 2008).
Publications

2012 Dominion: A Whale Symposium, ed Angela Cockayne and Philip Hoare, (Bath: Wunderkammer Press, January 2012) p 18-20.
2011
What Can University Galleries Offer?
in
Cabinet: Changing Perceptions
,

ed

P Quinn,

(
Plymouth University Press), 20-21.
2008
Beryl Cook:1926-2008
, ed Jess Wilder and Sarah Chapman, (Plymouth University Press). Alongside curating the first major retrospective of Beryl Cook's work in the Peninsula Arts Gallery, following her death, the publication brought together academics and critical commentators who questioned and examined the division between the huge popularity of Cook's work and the art establishment's resistance in recognising her success whilst she was alive.
Art Direction / Design
2012 Crowley, D.,
Dan & Lia Perjovschi,
The Art of Marginalia
(Plymouth University Press). Author and Art Direction.
2009 - 2012
T
wenty Romanian Writer
series
(Plymouth University Press
)
.
2007 - 2011
Short Fiction
, series 1-5 (Plymouth University Press
)
.
Conferences organised

2011 May

Future Visions
(Film Festival)
Roland Levinsky Building, Plymouth University This week-long celebration of film, included talks from film-makers and critics and was programmed in anticipation of the curatorial theme 'In the Days of the Comet' underpinning the British Art Show 7, Peninsula Arts Gallery and across Plymouth (September-December 2011). The festival questioned how contemporary uncertainties manifest themselves into a dystopian vision of the future as seen through film.
2011 February

Whale Festival
Roland Levinsky Building, Plymouth University
Inspired by the Dominion exhibition in Peninsula Arts Gallery, the three day Festival celebrated the iconographic image of the whale and it's place in literature, biology and history. Bringing together international artists and scientists the festival included performances, film screenings, poetry readings, talks and music, the hugely popular festival attracted both an academic and public audience.
2010 - 2011 November
Romanian Festival
, Peninsula Arts, Plymouth University. A three day festival across two years celebrating Romanian Art, Performance, Film, Literature and Music (in partnership with the Romanian Cultural Institute)
2009 February
Disposable People
, Co-organisor, Peninsula Arts, Plymouth University. A symposium exploring the ethics of Documentary Photography and Journalism (in partnership with Hayward Touring, Autograph ABP, Magnum Photographers)
2009 May Animal Gaze, Co-organisor, Peninsula Arts, Plymouth University. A symposium which examined how artists are responding to the changing relationship between animal and human in the light of recent medical advancements. Programmed in response to the 200th anniversary of Darwin. (Supported by PVAC and Centre of Contemporary Art and the Natural World)

2008 May

Exploring Consciousnes
s
, Co-organisor, Peninsula Arts, Plymouth University. A symposium which explored a range of Art & Science collaborations, in response to
Scribing the Soul
exhibition by Susan Aldworth (Peninsula Arts Gallery)
Other academic activities

2012 Peninsula Arts team shortlisted for a Vice-Chancellor's Enterprise Award for ​
Creative Initiative
. Recognising the success and impact of bringing the British Art Show 7 to Plymouth, working in conjunction with the Hayward Gallery and as a leading member of the Plymouth Visual Arts Consortium, supported by Plymouth City Council and Arts Council England, Peninsula Arts co-delivered the 7th British Art Show 'In the Days of the Comet' for the final leg of its year-long country wide tour. BAS7 ran for three months across five venues throughout the City including the Peninsula Arts Gallery. As a high profile major contemporary arts event 74,790 visits were made to the city wide exhibition, providing access to contemporary arts to the local and regional audiences, including specifically focused opportunities for 67 Schools to connect directly with the work, academics and students of the University.


2011 Shortlisted for
Times Higher Education Award,
Excellence and Innovation in the Arts
, Peninsula Arts Contemporary Music Festival
2009 Awarded a Vice-Chancellor's
Enterprise Award for International Engagement.
Paul Honeywill, Anthony Caleshu, Sarah Chapman & Simon Ible, University of Plymouth Press and Peninsula Arts.
2006 Teaching Qualification: GTA (General Teaching Award).
Additional information

Partnerships
Peninsula Arts is committed to supporting and enabling new opportunities for graduates and creative entrepreneurs. In the last year Peninsula Arts has actively supported and partnered with many new creative enterprises launched across the city. I see my role in these partnerships as a facilitator, connecting projects with academic specialists and researchers working within the University, engaging students with cultural ventures, sharing my own professional networks and contacts with new start-ups and advising on their professional development.
Debate
I have a particular interest in fostering critical debate and believe that the free exchange of ideas and constructive contestation underpin the development of all progressive ideas. Debate one might argue is the pre condition for a healthy society and Universities prize their commitment to the free spirit of enquiry. In this tradition Peninsula Arts supports 'The Disputables' a new Plymouth based debating platform, which takes debate out into the community and encourages a questioning and intelligent approach to discussion on all matters that both impact on and influence our lives.

2012
"Is the Holiday over for cheap flights?" 15th November
Panel: Dr Kevin Meethan, Associate Professor in Sociology, School of Social Science and Social Work, Plymouth University; Peter Smith, School of Management and Social Sciences, St Mary's University College Twickenham; Andrew Pratt, Plymouth Green Party.

"Does Integrated Medicine Make Sense?" Great Hall, Dartington, 26th May, (organised by Jo Torres and supported by Peninsula Arts and Social Justice, Dartington)
Panel: Totnes MP and GP Dr. Sarah Wollaston; Andy Lewis, skeptical blogger; Becky Simpson, cancer survivor; Simon Mills, herbalist. Chair: Totnes FM founder David Parsley.
"Digital Natives or Digital Captives: How is Technology Changing Young People?", Plymouth University, 7th February
Panel: Alan Earl (Police Officer and advisor on Internet Child Abuse Team), Andy Phippen (Professor of Social responsibility in IT, Plymouth University), Darren Towers (Media Advanced teacher, Stoke Damerell Community College), Neil De Witt (Associate Professor, Head of Technology Enhanced Learning).
2011

"Should austerity be embraced or rejected?" 4th November
Panel: Oliver Colvile (MP Member for Plymouth, Sutton and devonport), Daniel Ben Ami (Author of 'Ferraris for All'), Simon Ashby (Plymouth Business School), Danny Bamping (Chairman 23Acorns Group), Rob Gawthrop (University College Falmouth).
http://thedisputables.wordpress.com/